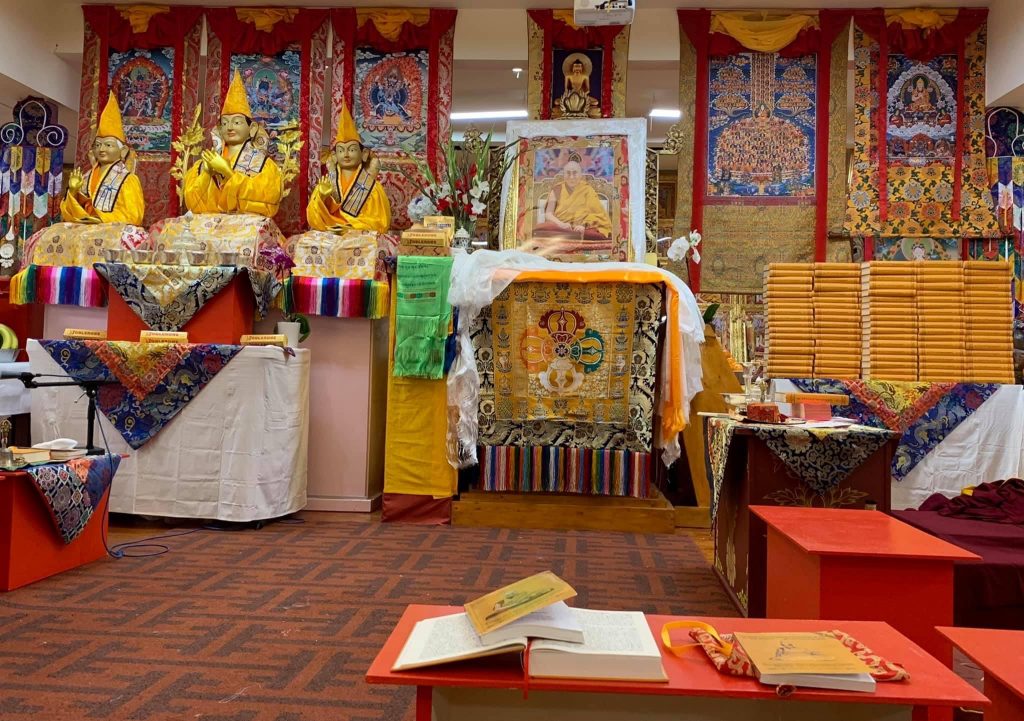 To all our Dear students, friends and supporters,
Tashi Delek!
We hope you are all doing well and staying safe and healthy during
this continued pandemic. We want to provide you with an update on our continued search for a larger, permanent temple and home here in the San Francisco Bay Area for Sera Jey.
First, let us again express our sincere gratitude to all those supporters who have already contributed funds and those who provided us with interest-free loans for the purchase of a new space. We would not be able to pursue this without your generosity.
The current space we are in on Elm Street was never meant to be permanent. It has served us well as a temporary space for practice and residence for our monks but we have quickly outgrown it and now need a permanent larger space for worship and teaching to adequately serve our community with more room to house additional monks. We are continuing our search and will of course, send updates once we locate the perfect space.
We continue to accept donations for this purpose so that we will be financially prepared when the karma ripens and a space is located. Again, we could not do this without your kind and generous support.
We humbly thank you for your continued support and donations and offer prayers daily for your health and well-being.
Yours in the Dharma
You may donate via our website (link below) or send a check made payable to:
Sera Jey Foundation
1525 Elm Street
El Cerrito, CA 94530
ལྷག་བསམ་དག་པས་ཚུལ་འདིར་བརྩོན་པ་ན།། ཚངས་དང་དབང་པོ་འཇིག་རྟེན་སྐྱོང་བ་དང་།།
ལེགས་ལྡན་ནག་པོ་ལ་སོགས་སྲུང་མས་ཀྱང་།། གཡེལ་བ་མེད་པར་རྟག་ཏུ་གྲོགས་བྱེད་ཤོག
致我們所有的學生、法友及支持者:
札西德勒!
願大家在這場持續的疫情之中健康平安,一切順利。
我們想為您提供有關我們繼續在舊金山灣區為色拉傑尋找永久及較寬廣的道場的最新消息。
首先,讓我們再次向所有已經捐款的支持者和提供無息貸款購買新道場者表示衷心的感謝。沒有您的慷慨支持,我們將無法實現這一目標。
我們從未規劃將現在位於Elm Street之中心做為永久地點。
它為我們的僧眾提供了一個臨時的修行和居住空間,但我們很快就超出了它的容量,故需尋一永久及較寬廣修持與教學之地點,方能妥善的服務社會大眾,並有更多房間供多位僧眾長住。
我們仍在持續尋找,當尋得完美地點時將會通知大家。
我們並繼續為此目的接受捐贈,做好財務準備以供因緣成熟覓得地點時之用。
再次,若無您們的善念及慷慨支持,我們並無法達成目標。
我們衷心感謝您持續的支持和捐贈,並每天為您的健康和幸福祈禱。
謹頌法安
洛桑多傑格西
您可以通過我們的網站(如下)捐款或將支票寄送至:
Sera Jey Foundation
1525 Elm Street
El Cerrito, CA 94530