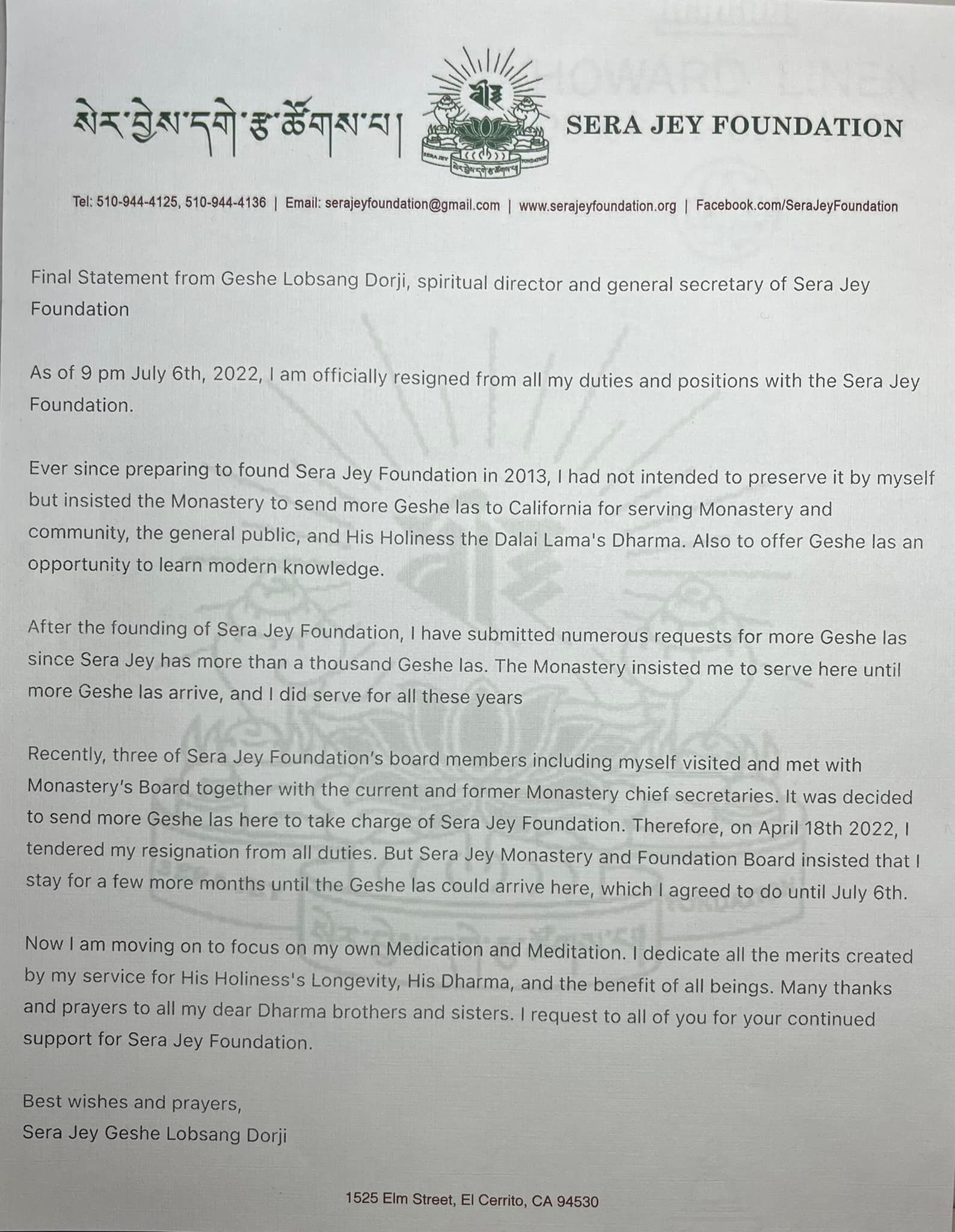 Final Statement from Geshe Lobsang Dorji, spiritual director and general secretary of Sera Jey Foundation
As of 9 pm July 6th, 2022, I am officially resigned from all my duties and positions with the Sera Jey Foundation.
Ever since preparing to found Sera Jey Foundation in 2013, I had not intended to preserve it by myself but insisted the Monastery to send more Geshe las to California for serving Monastery and community, the general public, and His Holiness the Dalai Lama's Dharma. Also to offer Geshe las an opportunity to learn modern knowledge.
After the founding of Sera Jey Foundation, I have submitted numerous requests for more Geshe las since Sera Jey has more than a thousand Geshe las. The Monastery insisted me to serve here until more Geshe las arrive, and I did serve for all these years.
Recently, three of Sera Jey Foundation's board members including myself visited and met with Monastery's Board together with the current and former Monastery chief secretaries. It was decided to send more Geshe las here to take charge of Sera Jey Foundation. Therefore, on April 18th 2022, I tendered my resignation from all duties. But Sera Jey Monastery and Foundation Board insisted that I stay for a few more months until the Geshe las could arrive here, which I agreed to do until July 6th.
Now I am moving on to focus on my own Medication and Meditation. I dedicate all the merits created by my service for His Holiness's Longevity, His Dharma, and the benefit of all beings. Many thanks and prayers to all my dear Dharma brothers and sisters. I request to all of you for your continued support for Sera Jey Foundation.
Best wishes and prayers,
Sera Jey Geshe Lobsang Dorji
色拉傑基金會的精神導師兼秘書長格西洛桑多傑之聲明
從2022年7月6日晚上9點起,我正式辭去在色拉傑基金會的所有職務。
自2013年籌備色拉傑基金會時,我並未計劃自己來管理,而是堅持要讓寺院派多位格西前來加州,為寺院和社區、大眾、尊者達賴喇嘛的教法服務。同時也為格西們提供學習現代知識的機會。
色拉傑基金會成立後,由於色拉傑寺有一千多位格西喇,我提交過無數次請求增派格西。但寺院堅持讓我在此服務,直到更多的格西喇到來,我亦確實服務了這些年。
近日,包括我在內的三名色拉傑基金會委員與寺院現任和前任當家師前往寺院理事會會談。決議派多位格西喇前來負責色拉傑基金會。因此我於2022年4月18日提出辭呈。但色拉傑寺與基金會委員堅持讓我留幾個月,直到格西們能夠到達,我並同意留至7月6日。
如今我將致力於自身的處方與修持。願將我的服務所創造的一切功德,迴向於尊者達賴喇嘛的長壽、尊者之法教及利益所有眾生。非常感謝和祈福予我所有親愛的佛法兄弟姐妹。我請求大家繼續支持色拉傑基金會。
致上最勝祝願與祈禱,
色拉傑格西洛桑多傑